OBD2 Code Scanner
Product Name:LAUNCH OBD2 Scanner CRP129E Car Diagnostic Tool for Eng ABS SRS TCM Code Reader Oil/EPB/TPMS/SAS/Throttle Reset Free Update
Product Type:LAUNCH OBD2 Scanner CRP129E
Product Category:OBD2 Code Scanner
View Count:
Product Description
LAUNCH X431 CRP129E OBD2 Scanner Engine ABS SRS Transmission Diagnostic-Tool +Brake/Oil /SAS /ETS/TPMS reset+AutoVIN+Free Car Software +Lifetime Free Update+ No IP limited...
Why Choose LAUNCH CRP129E
1.Fixed more bugs and Upgrade new makes up to 2020 models, including cars, SUVs, minvans, 12v light-duty trucks.
2.Check and Reset Engine/Transmission /ABS/SRS DTC codes.
3.Five Reset Functions: Oil Reset; Steering Angle Calibration; Electronic Parking Brake Reset; TPMS Reset; Throttle Position Reset.
4.Auto VIN Scan, OBD2 10 Modes Test.
5.
Read and display live PCM data streams, Real-time vehicle battery monitoring and graphing.
6.Live data can be recorded and they can be played back in text format or graph format. Playback supports two 7.graphs (independent) or 4 PID's graphed (combined).
8.Data Stream Record and Playback, Automatic Vehicle Health Diagnostic Report ,Diagnostic Feedback.
9.Extensive Vehicle Coverage Includes 57 Vehicle Makers , One-Click Wi-Fi Lifetime Free Update Online.
10.Fast Android 7.1 Operating System, 720P 5.0-inch Touch Screen Display , 6000mAh built-in Rechargeable Battery.
LAUNCH CRP129E OBD2 Scanner Check Engine/Transmission /ABS/SRS Fault Codes
Read and clear codes and view live data in transmission systems, keeps the transmission systems output optimally adapted to the speed and load. Retrieve the error information from Automatic Transmission (AT) which is a type of motor vehicle transmission that can automatically change gear ratios as the vehicle moves, freeing the driver from having to shift gears manually.
Anti-Lock Braking System (ABS system)
Read and clear DTCs data flow in the ABS system. Performs various tests to check the operating conditions of Anti-lock Braking System, and turn off the warning light.
Supplemental Restraint System (SRS System)
Safety restraint system, is made up of impact sensors, a control module, and the airbags themselves, and this diagnostic device can detect every electronic parameter to check its health status.Read and clear fault code in SRS (Airbag) system and turn off warning light of airbag for making sure engine work properly and safely.
The crp129e diagnostic tool can help detect the engine ignition, fuel injection, air and fuel ratio, and exhaust emission conditions in Engine system to enhance vehicle performance, save energy and reduce exhaust emission.
LAUNCH CRP129E Support 5 Reset Service, which is very useful for mechanic.
this obd2 scanner allows you to perform reset for a new calculation of Engine Oil Life system once changed the oil, clear the oil light .
Steering Angle Calibration
crp129e code reader can perform steering angle adjustment, clear steering sensor fault memory and turn off steering wheel warning light.
Electronic Parking Brake Reset
to deactivating and activate the brake control systems, assist with brake fluid control, open and close brake pads, and set brakes after disc or pad replacement .
the upgrade scanner of crp129 launch crp129e can makes sense in displaying sensor IDs from the vehicle's ECU, inputting TPMS sensor replacement IDs and testing sensors.
The throttle body is a tube containing a pivoting flat valve (butterfly) that is used to control the amount ofair entering an engine. In an electronically fuel injected car, a throttle position sensor and air flow sensorcommunicate with the computer, which supplies the corresponding amount of fuel needed at the injectors. It must need re-learning throttle sensor position after clearing or repair.
English, Spanish, French, German, Italian, Russian, Japanese, Korean, Portuguese
Auto VIN functions allowing you to quickly figure out Vehicle Identification No. (VIN), Calibration ID(s), Calibration Verification Nos. (CVNs). This function is especially usefu when you want to know if the manufacturer had ever issued a recall of the vehicle and whether the repairs were made, or retrieve the history report of a used car to know its accidents or repairs.

Live Data Stream Analyse in Graph
1.The scan tool crp129e shows you live sensors data and provides data graphing for intuitive diagnostics and monitoring your vehicle performance, help customers to better analyze the abnormal parameter.
2.Data recording functionality is amazing, customer can record the live data stream for up to 10, simultaneous, PID's. Once these have been recorded they can be played back in text format and/or graph format. Playback supports two graphs (independent) or 4 PID's graphed (combined). Playback timeline can be scrolled, paused, viewed, etc. There's quite a bit of power in the graphing.

performs real-time battery monitoring/graphing
One-check I/M Readiness Status
Shows whether the various emissions-related systems on the vehicle are operating properly and are ready for inspection and maintenance testing.
Full OBD2 Function diagnostic
This scanner supports all 10 test modes for OBD-II cars which are great for daily repair work. The table below describes the purpose of each mode of operation:
$01 - Request Current Powertrain Diagnostic Data
$02 - Request Powertrain Freeze Frame Data
$03 - Request Emission-Related Diagnostic Trouble Codes
$04 - Clear/Reset Emission-Related Diagnostic Information
$05 - Request Oxygen Sensor Monitoring Test Results
$06 - Request On-Board Monitoring Test Results for Specific Monitored Systems
$07 - Request Emission-Related Diagnostic Trouble Codes Detected During Current or Last Completed Driving Cycle
$08 - Request Control of On-Board System Test or Component
$09 - Request Vehicle Information
$0A - Request Emission-Related Diagnostic Trouble Codes with Permanent Status
DTC Library
Allows you to retrieve the definition of the diagnostic trouble code from the abundant DTC database.
Diagnostic Reprot Share and Print
Launch crp129e obd2 scanner support auto generate and store vehicle diagnostic report which can let your mechanic know how to do vehicle inspection and maintenance. And the diagnostic report can be shared to email then print.
The diagnostic report can help you save time to analyse the problem, it is very great for repair shop , mechanics can print out the vehicle report for customer.
Accessories Checklist
1. Creader Professional 129E handset
2. OBD II diagnostic cable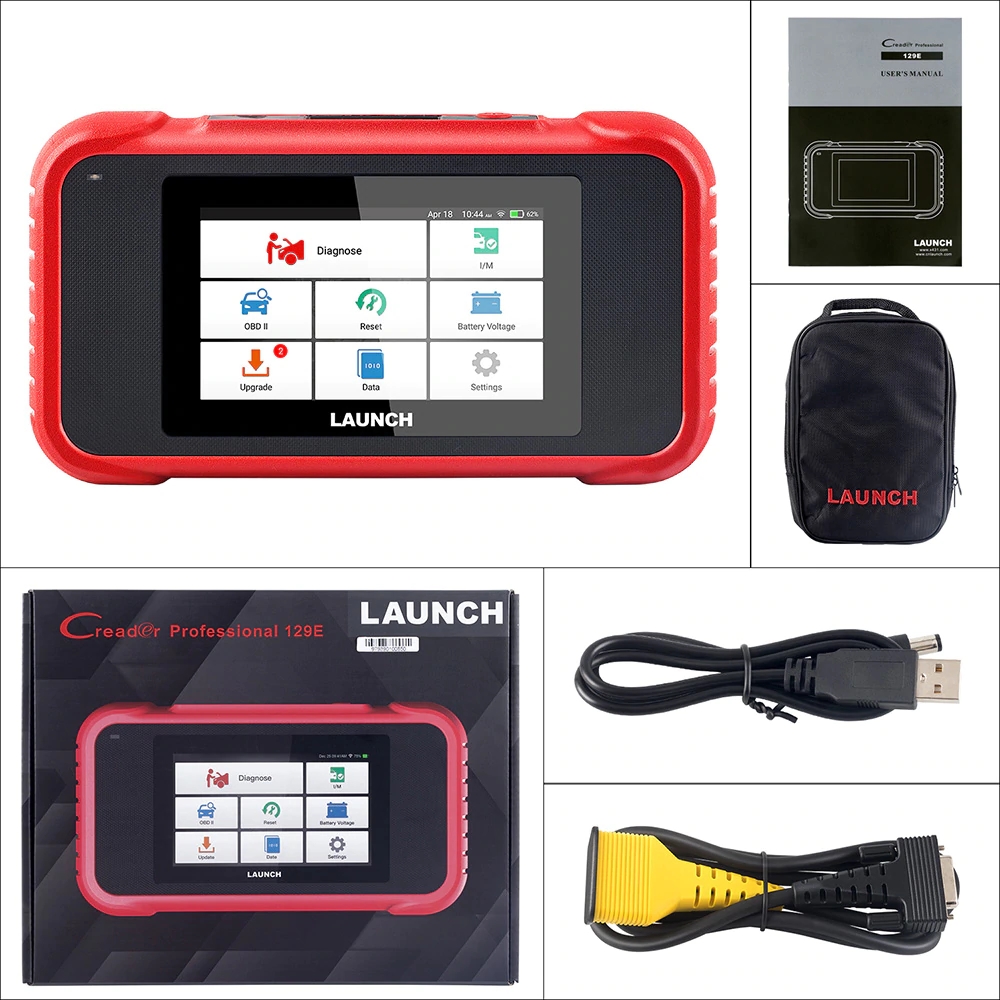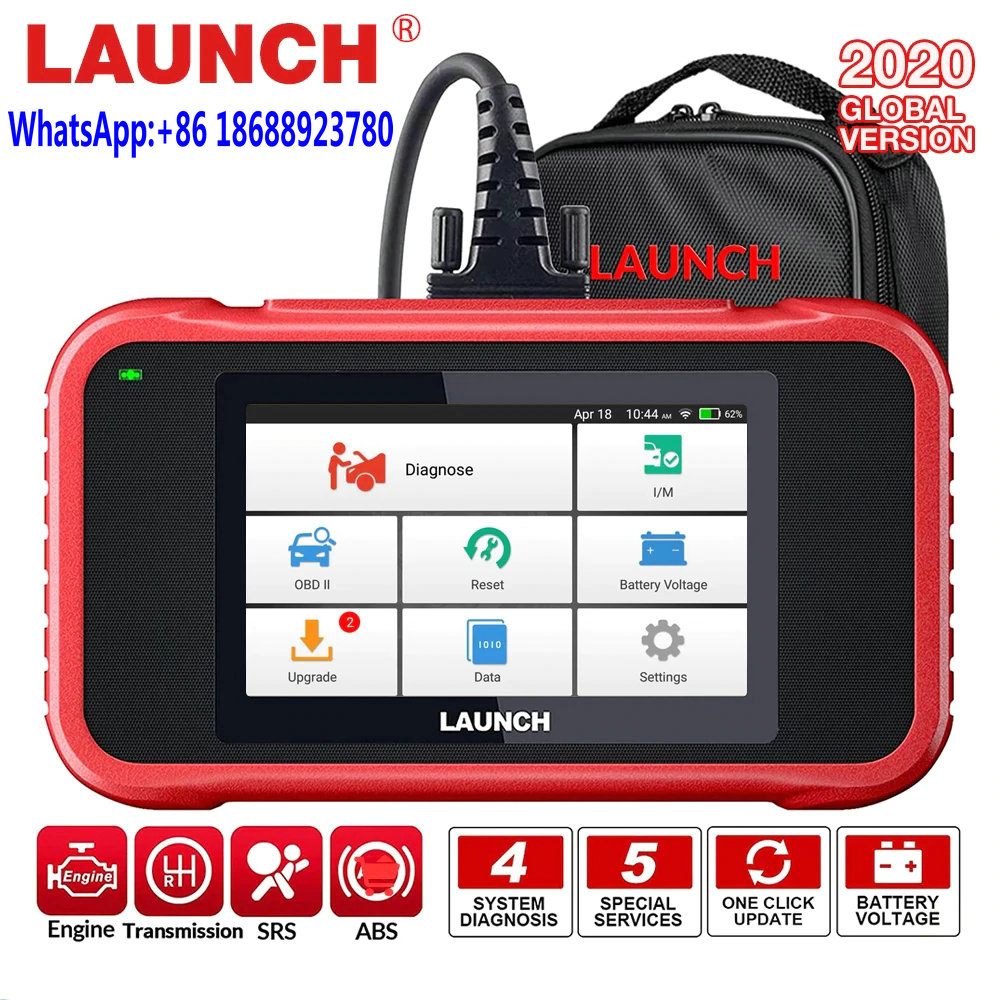 we are official dealer in china for "LAUNCH" ,"Autel","Fcar", "OBDSTAR",ect since 2009. we sell auto scanner, car key programmer, ecu chip tunning tool, garage device, odometer resetter and more.. Our webpage is www.urobd2.com.


Scan My Facebook QR code to chat with me anytime by mobile phone
My Facebook QR code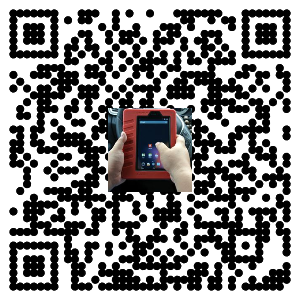 Contact information:
Mr Paul Tan
Email:paul@urobd2.com
Mobile:+86 18688923780
Webpage:www.urobd2.com
Skype:paul_urobd2
Facebook:https://www.facebook.com/LaunchX431AutoScanner
QQ:2630390680
WhatsApp:+86 18688923780
Wechat:+86 18688923780
Facebook:https://www.facebook.com/tan.paul.735
Location:Shenzhen, China