OBD2 Code Scanner
Product Name:LAUNCH X431 CRP429C OBD2 Code Reader for Engine/ABS/SRS/AT+11 Service CRP429 Car Diagnostic Tool PK CRP TOUCH PRO CRP129 CR 9081
Product Type:LAUNCH X431 CRP429C
Product Category:OBD2 Code Scanner
View Count:
Product Description
LAUNCH X431 CRP 429C OBD2 Code Reader Test Engine/ABS/Airbag/AT +11 Reset Function Powerful than CRP129 CRP429 Creader 9081



Introduction :

CRP 429C is an evolutionary smart solution for passenger car diagnosis It inherits from LAUNCH's advanced diagnosing technology and is characterized by covering a wide range of vehicles, featuring powerful functions, and providing precise test result.

CRP 429C supports all 10 models of OBDII test for a complete diagnosis.CRP 429C also supports the system diagnosis of ABS.SRS, ENG and AT system, and supports 11 reset functions.


The advantage of CRP429C

* Supports all 10 models of OBDlI test;
* Support 4 major systems of Engine , Transmission , ABS and Airbag system;
* 11 Reset Function : including Oil Lamp Reset; Brake Pad Reset; TPMS Reset; Battery Matching; Injector Programming; Throttle Adaptation; DPF Reset; Gear Learning; Steering Angle Reset; ABS Brake Bleeding and Anti-Theft Matching.
* Basic diagnostic functions: Version Information, Read DTCs ,Clear DTCs and Read Data Stream (supports 3 dispiay modes: Value, Graph and Merged).
* Support Multi-languages
* Update:One-Click update online via Wi-fi , One years free update
* Print : Support print out diagnostic report via PC
* Multiple car models (covering over 40 prevailing models from Asia, America and Europe).
* Touch screen and button operation model, meets majority of users needs

It is a professional diagnostic tool for passenger vehicles, with advantages of wide car model coverage, powerful test functions, accurate test data, and online diagnostics. It supports the basic diagnostic functions and 11 common service and reset functions of the four major systems for overseas mainstream models.


Language: English, French, Spanish, Russian, Japanese, German, Italian, Portuguese.



Supported Brands

For Demo,for ACURA,for Alfa Romeo, for Audi,for BMW,for BUGATTI,for Chrysler,
For Citroen,for DACIA, for Daewoo, for Euroford, for Fiat, for Ford, for Mitsubishi, for Nissan, for Opel,for Peugeot, for Porsche , for Renault,for SAAB,for SAMSUNG,for Seat
For Skoda,for Smart, for Sprinter, for Subaru, for Suzuki,for Tlisuzu,for SAAB,for SAMSUNG for Toyota, for Vauxhall,for Volvo,for VW,for GM,for Gmsa,for Honda, for Hyundai, for Infiniti,for Isuzu, for Jaguar,for Kia,for Lancia,for Landrover,for Lexus, for Lincoln, for Mazda, for Mercedes , for Mini


1. Functions and Features:

- Support OBD full functions;
- Support Read DTC, Clear DTC and Read Data Stream of the four major systems of Engine, AT, ABS and SRS for overseas mainstream vehicles;
- Support 11 common service and reset functions, including Oil Lamp Reset, Brake Pad Reset, TPMS Reset, Battery Matching, Injector Programming, Throttle Adaptation, DPF Reset, Gear Learning, Steering Angle Reset, ABS Brake Bleeding, and Anti-Theft Matching.
- Support automatic identification of VIN;
- Support automatic generation of diagnostic reports;
- Support diagnostic report sharing via email to PC for print;
- Support real-time display of the vehicle battery voltage.

2. Technical Parameters:

Operating System: Android 7.0
Processor: Cortex-A5 processor (1.5 GHz)
RAM: 1GB
ROM: 8GB
Display: 5 inch IPS touch screen
Connectivity: Mini USB 2.0, Wi-Fi
Power and Battery: 4000 mAh lithium-polymer battery
Built-in Lithium Battery: 4000mAh
Ambient: -20℃ ~ 70℃ (storage); -10℃ ~ 50℃ (working)
Product Size: 248.7x93.5x36(mm)
Product Net Weight: 530g


Packing List

1 * Main Unit
1 * OBDII Diagnostic Cable
1 * DC 5V Charging Cable
1 * User's Manual
1 * Padded Carry Case


Software Display


Scan My Facebook QR code to chat with me anytime by mobile phone
My Facebook QR code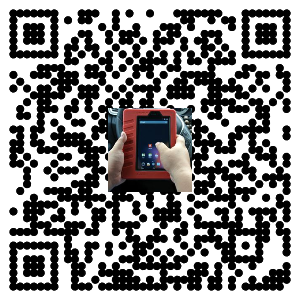 Contact information:
Mr Paul Tan
Email:paul@urobd2.com
Mobile:+86 18688923780
Webpage:www.urobd2.com
Skype:paul_urobd2
Yahoo:paul_urobd2@yahoo.com
QQ:2630390680
WhatsApp:+86 18688923780
Wechat:+86 18688923780
Facebook:https://www.facebook.com/tan.paul.735
Location:Shenzhen, China