Car Diagnostic Tool
Product Name:LAUNCH X431 PAD V Online Programming Automotive Full System Diagnostic Tool
Product Type:LAUNCH X431 PAD V
Product Category:Car Diagnostic Tool
View Count:
Product Description
LAUNCH X431 PAD V SmartLink Box Automotive Diagnostic tools, All-in-One Diagnostics & Services,All System Diagnostics Tool,J2534 ECU Programming, Bi-Directional Control, 30+ Special Functions 6GB RAM +64GB memory (can up to 128GB)
Highly recommended by auto repair shops and mechanics!!!
1.High-end online programming capabilities

2.5G Wi-Fi diagnosis, It is far superior to Bluetooth in terms of transmission rate, diagnostic distance, anti-interference, etc.

3.Intelligent diagnosis, support for automatic vehicle identification through VIN, quick access to vehicle system, support for history Diagnosis record query

4.Support J2534/RP1210/D-PDUdiagnostic standard, can be used alone with part of the original diagnostic software

5.Qualcomm MSM8953 8-core Processor, 2.0 GHz with 4GB RAM+ 64GB ROM(can extend up to 128GB)

6.IP65 case. supports use in high temperature and strong light conditions,10.1 inch fully laminated IPS screen (Gorilla Glass), scratch-resistant, resolution 1920*1200

7. Docking & charging station included with QC3.0 Quick Charge technology

8. Read all DTC types for full system, view, graph and record data PIDs, support bi-directional controls, actuation test and all other diagnostic functions

9.Guided functionfor Volkswagen and Audi

10.Supporting 26+ Service Reset Functions, Supports a wide range of models, covering medium-sized models in Europe, America, Japan, South Korea

11.support Topological Graph

12. Support USB Type C & Type A

13.Remote diagnosis allowing you to work on a vehicle from your tool without being on-site

14. One-Click Upgrade and silent install for software

15. Diagnostic records and reports can be stored in the cloud without any concern of data missing

16. Integrated database with comprehensive vehicle service and repair information

17.Support mall expansion, Module expansion, commercial vehicle expansion function, TPMS , ect
18. Buy PAD V Truck Cable to Active 24V Truck (Optional )
19, Support language : English, French, Spanish, German, Russian, Korean, Japanese, Portuguese, Italian, Polish, Dutch, Hungarian, Finnish, Simplified, Czech, Turkish, Greek, Arabic, Danish Persian, Romanian, Serbian, Swedish, Chinese Traditional

and more ............
Full System Diagnosis and Topology Mapping
Color-coded topology displays all system status in one page!!!View structure of communication between modules
With topological diagram Function,it can displays the entire system through the Topology Map to glance all the modules with faults, which is easy to locate faults and causes.

Up to 5 ways of DTC display: Topology, list, separately click into the control unit, Intelligent Diagnostics details, vehicle diagnosis report, among which Topology is the newest and innovative configuration.

Display the entire system through the Topology Map to glance all the modules with faults, which is easy to locate faults and causes. Color-coded topology displays all system status in one page and structure of communication between modules. Communication between modules and status can be spotted in a glance and you can locate faults more intuitively to solve problems quickly!

NOTE: Topology is not universal to all the vehicles, please check VIN for compatibility before you place order!
All System Diagnosis
LAUNCH X431 PAD V can diagnose the electronic control system of prevailing vehicle models covering Asian, European, American and China. Support over 10000 models , Full range car models and full car system diagnose make itaprofessional automotive diagnostic tool.

Full System Diagnostic Including :
ABS System, Engine System, SAS System , TPMS System , IMMO System , Battery System, Oil Service System, SRS System, DPF System, Air Conditioning System, Transmission System, ect...

Diagnosis functions include:
Read control unit information, Read DTCs, Clear DTCs, Read datastream, Action test , AF Adjustment, Read frozen frame, Coding match , initialization and More ...
Active Test
enables you to transmit control commands to operate the vehicle systems, without using the vehicle's controls, to verify system input and output such as:

Turn on the radiator fan / Turn on interior & exterior lights / Turn on sound horn / Modulate the throttle / Open & close windows / Operate mirrors / Test door lock actuators/ Injector Test ;Turn Off ACC Lane Keeping Assist System (LKAS) ;Turn ON/OFF Front and Rear side ACM Solenoid , turning the fuel pump on and off, cycling the a/c ,clutch on and off, Left clutch electromagnetic coil test,Acceleration Device Test,Oil Pressure Control Test,DYNAMIC camera aiming,Vehicle level position calibration, Brake Vacuum Pump, Inlet and Outlet Valve tests, Open Brakes tests, Parking Brake Botors, Wheel Speed Sensor Supply, PARKING BRAKE tests (Vary by car, Hundreds of actuation test functions …
ECU CODING
ECU Coding function is used to re-flash the vehicle control modules, it allows you to reprogram adaptive data for certain components after making repairs or replacements, providing ways for the issues of Drivability, Fuel Efficiency, Power Loss, Fault Codes, Durability of Mechanical Parts. this functions works for 98% car models(including BMW, Volkswagen, Porsche, etc.)
Online Programing ,( Does not work in USA &Spain & North America )
X431 PAD V supports programming and coding, which is to write the relevant control information of the software into the automotive computer's programmable EPROM or FLASH by making use of the electronic communication transmission technology.

X431 PAD V Support intelligent recognition of programming files, convenient and quick operation.Support for Mercedes-Benz, for Benz New Energy, for BMW, for BMW New Energy, for GM, General New Energy, for Ford,Ford New Energy, for Volkswagen, for Volkswagen New Energy, for Audi, for Audi New Energy, for Land Rover, for Nissan,Skoda, for Seat, for Mazda and other models Programming function.
Support D-PDU/J2534/RP1210 & CAN FD/DoIP
Advance OE-level function
√ Guided Functions: Compatible with Volkswagen / Audi / Skoda / Seat etc.

√ Component Matching: Compatible with Volkswagen / Skoda / Seat / BMW / GM / Ford / Opel / Mazda / Fiat / Honda / Nissan / Hyundai / Kia / Subaru etc.

√Online Coding: Compatible with Volkswagen / Audi / Benz / BMW / Seat / Porsche etc.

√Online Account Login Service: Compatible with Volkswagen / Audi / Skoda / Seat etc.

√Online Calibration: Compatible with Volkswagen / Audi / Skoda / Seat etc.

√Online Parameterization: Compatible with Volkswagen / Audi / Skoda / Seat etc.

√Anti-theft IMMO Serivce: Compatible with Volkswagen / Audi / Skoda / Seat etc.

√Power Balance: Compatible with Chrysler / GM / Ford etc.

√Programmable Module Installation: Compatible with Ford / Mazda etc.
Key IMMO / Key Fob Programming
Key Fob Programming/IMMO is mainly used to disable the lost vehicle keys and program a new replacement key fob for special vehicles.

Note:the key programming function is NOT universally compatible .please check compatibility with us if necessary. LAUNCH X431 PAD V supports PINCode reading for most cars before 2008 ,for vehicles after 2008,you need to have PINCode to do key programming
LAUNH X431 PAD V Support 30+ Kinds of Special Reset Service Functions:
(NOTE:You can find 15 kinds of commonly used reset functions in the reset menu, and other special functions in the car brand diagnostic softwares menu)
Oil Lamp Reset
Reset the oil life systems every time the oil and oil filter are changed;
Electronic Parking Brake Reset
Deactivate and activate the brake control system, assist with brake fluid control, open and close brake pads, etc.;
Injector Coding
Code new injector numbers to replace the previous one when fitting the new injectors or after the replacement is completed;
Steering Angle Calibration
Perform steering angle sensor calibration and clear records;
Battery Register / Battery Maintenance
Evaluate the battery charge state, monitor the closed-circuit current, register the battery replacement, etc.;
ABS Bleeding
When the ABS contains air, the ABS bleeding function must be performed to bleed the brake system to restore ABS brake sensitivity;
Electronic Throttle Position Reset
Initialize the throttle actuators so that the "learned" values stored on ECU are returned to the default state;
TPMS Reset
Tire pressure resetting is required to be performed after maintenance is performed;
DPF reset
Clear PM (Particulate Matter) from the DPF filter through continuous combustion oxidation mode to stabilize the filter performance;
Gear Learning
Perform gear learning for the car when the engine ECU, the crankshaft position sensor, or the crankshaft flywheel is replaced;
AFS Reset
tIt detects the light of the environment, then decides whether to automatically turn on the headlights or not. It can also adjust the headlights in time by monitoring the driving speed and body posture of the vehicle.
SUS Reset
When the body height sensor and control module in the air suspension system are replaced or the level of the car is wrong, this function needs to be performed to level the body height sensor.
EGR Adaption
Reduce nitrogen oxides (NOx) in the exhaust gas and improve fuel economy at partial load.

and Adblue Reset / language change / AF adjustment , ect
Accurate ADAS Calibration functions
Advanced Driver Assistance System (ADAS) is an electronic component in a vehicle, including various safety functions of the vehicle, such as automatic emergency braking (AEB), lane departure warning (LDW),lane keeping assist, blind spot elimination, night vision camera and Adaptive lighting.this aytomotive scanner can read the fault codes on ADAS system,but if want to do the ADAS calibrate function,you need to extra buy the ADAS rack.
TPMS Diagnostic Function
LAUNCH X431 PAD V can work with wireless tire pressure diagnostic too to achieve the features of TPMS activation, programming and learning.((NOTE: Need to be purchased separately)) a)Activation:to activate the sensor's lD, wheel pressure, sensor frequency, tire temperature and battery status. b)Programming:to program sensor data to a blank sensor, so as to replace a sensor that is in low battery and does not function properly. There are three sensor programming methods available:automatic, manual, and via activation replication. c) Learning:to write the sensor ID into the vehicle ECU for sensor identification
Remote Diagnose
help repair shops or technicians launch instant messaging and remote diagnosis, making the repair job getting fixed faster.could access remotely and quickly via mobile phone, tablet and computer, with low bandwidth and system resource occupancy.

It also can "Add friend " , can add the one who also use launch product , then you can comunicate with them in X431 Pro3s , if you have problem to car repair , you can talk with them online , they can help you !!!
Online Database
is fully filled with abundant repair cases and automotive technology handbook for your easier retrieval and reference.
LAUNCH PAD V support Car list
Chinese cars: Beijing Automobile, BAIC Magic Speed, Dongfeng Fengshen, GAC Trumpchi, GAC Mitsubishi, Haima, Mustang, China GM, Beijing Jeep, Beijing Hyundai, BYD, Changan Suzuki, Dandong Shuguang, Dongfeng Fengxing, Hainan Mazda, Geely, JAC , Jiangnan Alto, Lifan Motors, Nanjing Iveco, Chery, Qingling, Shanghai Volkswagen, FAW-Volkswagen, Zhengzhou Nissan, Zhidou, Zotye, ZTE, etc.

Asian cars:Honda, Acura, Toyota, Lexus, Mazda, Nissan, Infiniti, Hyundai, Kia, Ssangyong, Daewoo, Isuzu, Daihatsu, Suzuki, Mitsubishi, Subaru, etc.

American cars: Chrysler, Dodge, Jeep, American Ford, Lincoln, GM, Buick, Cadillac, Chevrolet, etc.

European cars:Aston Martin, BMW, Rolls Royce, Mercedes-Benz, Maybach, Peugeot, Volkswagen, Bentley, Bugatti, Ferrari, Fiat, Abbas, Lancia, Romeo, Renault, Maserati, Lamborghini, Citroen, Audi , Porsche, Volvo, Land Rover, Jaguar, Rover, Opel, Skoda, SEAT, Mini, Saab, etc.
High configuration LAUNCH X431 PAD V
Operating system: Android 7.1
CPU: Qualcomm MSM8953 2.0GHz eight-core
Memory: 4GB
Storage: 64GB (up to 128GB expansion)
Display screen: 10.1 inches, fully fit, sunlight readable screen
Resolution: 1920x1200
Camera: the first 8 million pixels, the rear 13 million pixels
Wi-Fi: Support 2.4GHz&/5GHz dual frequency x2
Size: 320mm*211mm*46mm
Sensor : Gravity Accelerometer , 3-Axis Acceleration Sensor
Working temperature: 0℃~50℃
Operating Temp: 0℃ ~ 50℃
Storage Temp: -20℃ ~ 70℃
VCI (Vehicle Communication Interface)
CPU: Dual processor Cortex-A7+Cortex-M7
Operating System: Linux
Working voltage: DC 9V ~ 36V
Memory: 256M
Storage: 8GB
USB: Type B x 1
Wi-Fi: 2.4GHz&5GHz dual frequency
Working temperature: 0℃ ~ 50℃
Size: 200mm*75mm*40mm
we are official dealer in china for "LAUNCH" ,"Autel","Fcar", "OBDSTAR",ect since 2009. we sell auto scanner, car key programmer, ecu chip tunning tool, garage device, odometer resetter and more.. Our webpage is www.urobd2.com.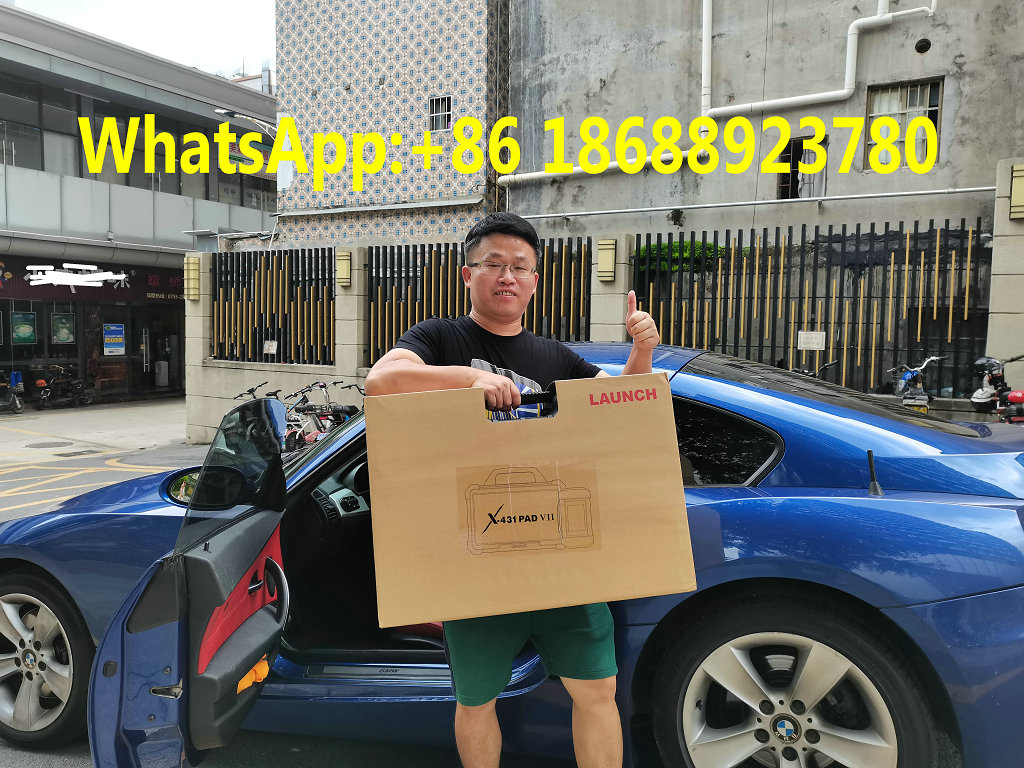 Scan My WhatsApp QR code to chat with me anytime by mobile phone
Contact information:
Mr Paul Tan
Email:paul@urobd2.com
Mobile:+86 18688923780
Webpage:www.urobd2.com
Skype:paul_urobd2
Facebook:https://www.facebook.com/profile.php?id=100072819858185
QQ:2630390680
WhatsApp:+86 18688923780
Wechat:+86 18688923780
Location:Shenzhen, China